*NEW FEATURE*
If you're an online banking customer, check out our new Bill Pay feature! This new, convenient feature is completely free and allows you to pay recurring, occasional, and one-time bills from your computer or mobile device. It's secure, convenient and you won't have to worry about whether or not you paid your bills! If you're not an online banking customer but want to get signed up, give us a call and we'll help you get started.
---
Click Here for Elmwood-Murdock School Website and get all the latest updates on the school year!
---
Celebrate Easter 2021
Easter Egg hunts at Home – Egg my Yard
We will be accepting online orders through Friday, March 26th.
All eggs will be delivered on Saturday, April 3rd at dusk/dark so that your children or grandchildren will have a fun Easter Egg Hunt all set up for them when they arrive on Easter Sunday.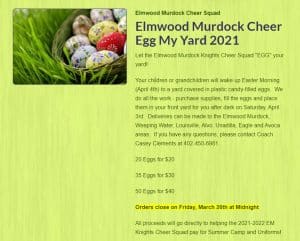 ---
Open 1:00 – 6:00 pm | March 26th, 27th, 28th 2021
This community outreach of the 3B Homestead, LLC is a
free event. Donations are accepted at the event and on VENMO @ThreeB-Homestead.
You are invited to a drive-through Easter event at the 3B Homestead in Murdock, Nebraska.
It is family-friendly and Covid-safe.
Bring a cell phone and listen to the podcast as your drive the path.