*NEW FEATURE*
If you're an online banking customer, check out our new Bill Pay feature! This new, convenient feature is completely free and allows you to pay recurring, occasional, and one-time bills from your computer or mobile device. It's secure, convenient and you won't have to worry about whether or not you paid your bills! If you're not an online banking customer but want to get signed up, give us a call and we'll help you get started.
---
Farmers Market News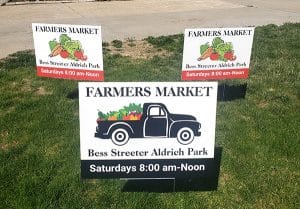 A pre-season opening will happen on May 1st in coordination with the Bess Streeter Aldrich House Plant Swap.
Elmwood Park 
May 1st  8:00 am – Noon
VENDORS – No fee, no mandatory number of times to set up. Join our Elmwood Market Vendor group here for more details or contact Dawn via email 
---
FIRST Elmwood "Pie Ride" Bike Ride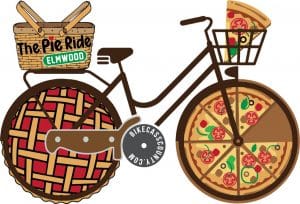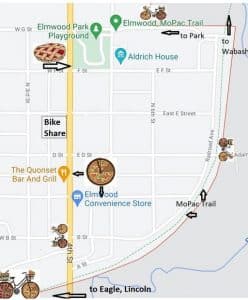 **NEW Event** The Elmwood Pie Ride 1st and 3rd Thursday in ​June, July, August
Join our Facebook group for themes and specials!
An unstructured ride to Elmwood, Nebraska to enjoy some PIE. –
That is delicious slices of Pizza Pie and Dessert Pie! Dates: June 3, 17, July 1, 15, Aug 5,19.
​
​Route: .Suggest start in Eagle or Wabash and riding the MoPac to Elmwood.
Pizza by the Slice, 5 pm – 9 pm
The Quonset Bar and Grill has drinks on sale, pizza by the slice, and a full menu.
Elmwood Convenience Store sells pizza slices plus grab and go items
DELICIOUS Dessert Pie, 5pm – 8pm
Civic groups will sell dessert pie slices in the park.
Services:
The Bess Streeter Aldrich Park has parking, restrooms, and a playground.
---
Bike Share in Elmwood Nebraska
What is the bike-share program? Quite simply there are five bikes available for the public to use for FREE! Yes, you heard it. Just drop into Bits and Pieces and sign one out!
In coordination with St Paul Methodist Church, United Methodist Health Fund, Hutchinson, Kansas, and Bits & Pieces five bicycles are available to check out (just like a library book) and ride around town, to the park, or on the trail.
To check out a bike, you must sign a waiver. General bike share program rules-
must show a drivers license at check out
12-17 can rent bikes with a parent at check out. Parents take full responsibility and sign a waiver for their child.
The bike is due back by the next Bits and Pieces business day. Plans are in the works to get a key dropbox. (Stay tuned.)
The condition of the bike is checked at check out and when it is checked back in
when you check out a bike you are responsible for the bike. Any damage will result in a fee.
failure to return the bike by the due date will result in the suspension of your ability to check out bikes.
No holds/reservations on bikes will be allowed
We do not provide helmets. You can bring your own helmet to use while riding the bike.
Have fun!!!!
---
Thank You to Veterans on Memorial Day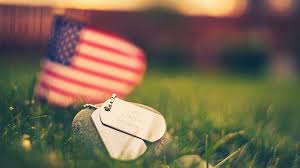 Not only do we honor our servicemen and women who died during times of war while serving our country, but we recognize our current and past veterans who have left us this past yea and were transferred into Post 247 Everlasting. This included Gordon Lannin, Boyd Clements, and Robert "Bob" Chapman.
---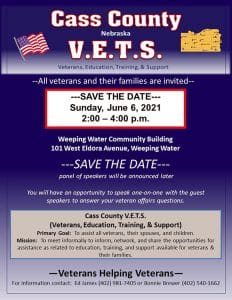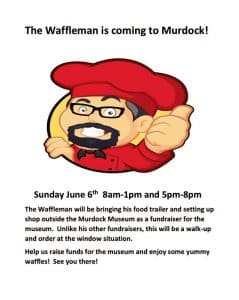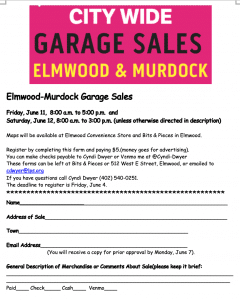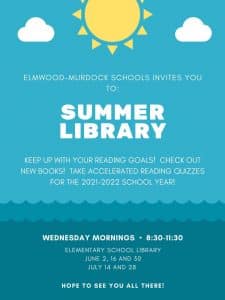 ---
Tails and Tales (Summer Reading Program)
Lions and tigers and bears and . . . KIDS! The Elmwood Public Library will be hosting the Summer Reading Clubs during the month of June and this year's theme is "Tails and Tales" (animal literature)!
The clubs will meet on Thursdays during the month of June (3, 10, 17 & 24). Little ones aged 4-7 will meet at 10:30 am. Older kids ages 8-11 will meet at 1 pm. Each session will last approximately one hour. Parental supervision is not required, as we will have some volunteer coordinators on-site to help.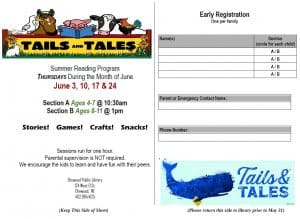 We have a lot of fun things in store including presentations and live animals on-site! We'll also get our hands dirty with some crafts and kick back with some animal crackers and watch a cartoon or two! Between all of these fun activities, we'll discover some great animal stories and integrate them into the weekly activities. Earn tickets towards prizes by reading books and attending our meetings. Prizes will be awarded on June 24.
Advanced registration is required. Please stop by the library prior to May 31 to fill out a registration sheet and reserve a spot for your child(ren). If you have any questions, please feel free to contact Library Director Anne Pope at elmwoodlibrary@outlook.com.
 The Elmwood Library is open. Regular hours with just a few adjustments for social distancing.
Easy Library Links
Online Card Catalog https://elmwoodpubliclibrary.follettdestiny.com/
Libby Library App https://help.libbyapp.com/index.htm
---
 Murdock 4th of July
Yes!! We are back to "normal" and Murdock will be having their 4th of July celebration. That means the EMMA newsletter will land in your mailbox soon. If you are a local business and would like to place an ad, a story or content that will reach 900 local residents you can purchase an by downloading this form.2021_EMMA_July_4_Nwsltr_Ad_Order_Form.pd.pdf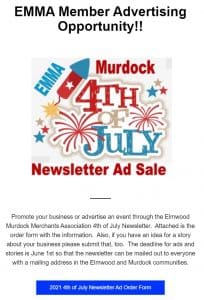 ---
The Cass County Fair is back this year!! A lot of fun events planned and special contests to join. Be sure to check out the fair website HERE!